Dr Aggarwal's Clinic is known for housing experienced oral, facial plastic and maxillofacial surgeons. Dr. Karun aggarwal, a well-reputed facial plastic and maxillofacial surgeon, practices in jodhpur. He is cited as one of the best for Hair Transplant in Jodhpur and can provide many types of Hair Loss Treatment in Jodhpur itself. Dr. Anika aggarwal, a well-reputed dental cosmetic & root canal specialist, practices in jodhpur. She has been serving patients related to dental from many years and connects efficiently with all her patients to so as to study the case and accordingly treat the patients effectively. Visit this medical health centre for oral, facial plastic and maxillofacial surgeons recommended by thousand patients.
Why Dr. Aggarwals Clinic ?
Certified Trichology Expert
He is one of the leading Trichologist and a hair loss specialist in Jodhpur who has helped thousands of hair loss sufferers across the country. His work has been published in many of the famous newspapers and this proves his expertise. He is often cited as the best to peform Hair Transplant in Jodhpur by Hair Doctor in Jodhpur.
Trusted Facial Plastic Surgeon
Dr. Aggarwal is one of the few doctors who are trusted by his patients for facial plastic surgery. All of our patients are satisfied with the post surgery results and this shows Dr. Aggarwal's credibility. Surgery is performed only under the extreme supervision of doctor.
Our 9 years of experience of serving patients on problems related to hairfall and other skin & dental problems, proves that we are amongst the best in Jodhpur and treat our patients with only the best treatments possible. Hair Loss treatments provided are through the best available techniques.
Over 21,000 patients have been treated till yet by Dr. Aggarwal and this achievement speaks for itself and shows that why he is one of the most trusted skin specialist not only in Jodhpur but across India too on whom patients can rely on & proves why he is best choice for Hair Transplant in Jodhpur. And Dr. Anika Aggarwal is the Best Dentist in Jodhpur.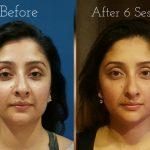 Do You Want Your Youth Back ?
Fill the Form & Take 1st Step towards it!