Do You Want Your Youth Back ?
Fill the Form & Take 1st Step towards it!
Body Hair Transpant

in Jodhpur
With the limited number of scalp donor hair available and the growing demand to cover the bald area, the quest for greater donor hair aroused. Thus began the concept of body hair transplant (BHT) in which hair follicles from other parts of the body including beard, chest, arms, axilla, pubic area and legs are used as additional source of grafts for covering the scalp or recosntruct any other body area.
BHT is practically exclusive for men. The characteristics of the body hair differ from the scalp hair with respect to its hair cycle, growth, number of hair and direction of growth.
Inspite of these differences, the body hair when transplanted to the scalp can grow up to 15cms length and can simulate the scalp hair character.
Being a newer modality, the long term effects of BHT are unknown.
Poor donor area on scalp (Grade VII patients).
Exhausted donor area following previous surgeries
Unhealthy scalp donor area
For hairline feathering
Eyebrow transplant
In cases like burns, scarring alopecias thereby reduced availability of donor grafts.
To reconstruct small areas of baldness in beard.
The logic of BHT is based on the principle of 'recipient influence' wherein the hairs transplanted from body ( beard, trunk, axillae, and pubis) to the scalp will eventually take up the characteristics of the scalp hair and will grow and cover the scalp.
Differences between a BHT-FUE

and A Conventioanl FUE
The technique of body hair transplant is basically Follicular Unit Extraction (FUE) or one by one. The donor areas extend from just scalp hair to beard, chest, arms, legs etc. BHT is used primarily in cases where the donor area on the head is no longer suitable for the extraction of donor material or is not dense enough. Then we do the evolution of possibility of hair transplant from body. If the physiological requirements are met, follicular units can be extracted directly from different area of the body – chest, abdomen, arms or legs – and transplanted to the scalp. The grafts taken in BHT are known to have different growth cycle but a concrete study is yet to prove. Also these are different from scalp grafts as these contain only 1 hair compared to 1 to 4 hairs in scalp grafts.
ANAESTHESIA
Tumescent anaesthesia ( a form of local anaesthesia ) is preferred for the extraction in BHT which is a safe and efficient way to achieve analgesia.
EXTRACTION
The extraction time is usually longer than the regular scalp transplant. The angle of follicular unit is mostly acute and the hair grow in variable direction. This makes body hair FUE a difficult and time consuming procedure as the surgeon has to keep changing direction of the punch repeatedly.
IMPLANTATION
The body hair is generally mixed with scalp hair and implanted on the mid-scalp or crown region for better blending.
Methods of

Body Extentions
MANUAL FUE
Sharp punches of 0.7mm – 0.9mm are used manually for body hair extraction.
POWER FUE
Powered motor is used for extracting hair which provides precise control over rotation, speed, rate and oscillation.
Post Procedure

Care & Result
Donor area: The antibiotic covering shall be given for a period of 1 week, donor area dressing is done with antibiotic cream. No bandaging is required and donor area heals within 7 days.
Recipient area: Same as post-operative care in FUE. Oral and topical medications for maintaining the transplanted and pre-existing hair shall be administered.
Coverage of scalp in patients with poor donor area of the scalp.
Good growth rate when implanted on scalp.
The hair mix well with the scalp hair, good number of hair can be extracted from the body.
Body hair are resistant to DHT (Dihydrotestosterone) which is the main cause of hair fall and remain on scalp forever.
There are minimal side effects. However the most commonly encountered side effects include:
Keloid formation can occur if overharvesting is done from sternal area
Hypopigmentation of the donor area can occur if done in dark skin individuals.
Asymmetric appearance of hair on body parts post surgery.
Following the surgery the transplanted hair tends to shed between 3-4 weeks. The regrowth of the transplanted hair is seen from 3rd month onwards. The complete results may take a longer duration in comparison to scalp hair transplant ranging between 12-18months.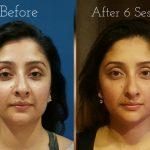 Do You Want Your Youth Back ?
Fill the Form & Take 1st Step towards it!