Do You Want Your Youth Back ?
Fill the Form & Take 1st Step towards it!
WHAT IS A CHEMICAL PEEL
A chemical peel involves the application of toxic chemical solutions to the skin in a controlled manner, producing controlled tissue death. The desired depth of the wound is dependent upon the condition to be treated. After the peel, the skin regenerates. The damaged skin likely regenerates through the growth of cells from deeper layers of the epidermis or from undamaged hair follicles.
WHAT ARE THE DIFFERENT TYPE OF CHEMICAL PEELS?
Chemical peels are broadly defined by the depth of damage in the skin that they produce. They are categorized as superficial, medium, and deep. Superficial peels do not damage skin below the epidermis, the most superficial skin layer. Medium peels may reach to the superficial layer of the dermis, the deeper layer of the skin. Deep peels generally reach the deeper layers of the dermis. The depth of damage depends on the nature and concentration of the chemicals in the peeling solution and the length of time they are permitted to interact with the skin. Popular chemicals in peeling solutions include retinoids (tretinoin dissolved in propylene glycol), alpha-hydroxy acids (lactic acid and glycolic acid), beta-hydroxy acids (salicylic acid), trichloroacetic acid, and phenol (carbolic acid). Jessner's solution, a combination of resorcinol (14 g), salicylic acid (14 g), and lactic acid (85%) in ethanol (95%), is also an excellent peeling agent.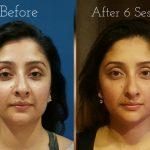 Do You Want Your Youth Back ?
Fill the Form & Take 1st Step towards it!