Do You Want Your Youth Back ?
Fill the Form & Take 1st Step towards it!
Dental Implants

in Jodhpur
If you are considering implants, you must have healthy gums and adequate bone to support the implant.
A dental implant is a titanium post (like a tooth root) that is surgically positioned into the jawbone beneath the gum line that allows your dentist to mount replacement teeth or a bridge into that area. An implant doesn't come loose like a denture can. Dental implants also benefit general oral health because they do not have to be anchored to other teeth, like bridges.
At Dr.Aggarwal, A dental implant (also known as an endosseous implant or fixture) is a surgical component that interfaces with the bone of the jaw or skull to support a dental prosthesis such as a crown, bridge, denture, facial prosthesis or to act as an orthodontic anchor.
What are dental implants?
A dental implant is used to support one or more false teeth. It is a titanium screw that can replace the root of a tooth when it fails. Just like a tooth root, it is placed into the jawbone.
Are implants safe and how long will they last?
Implants are a safe, well-established treatment. It's probably true to say that implants, much like natural teeth, will last for as long as you care for them. How well you look after your implants - and whether you go for your regular maintenance appointments - will have the biggest impact on how long they will last. If you don't look after your implants they will develop a coating similar to what you get on neglected natural teeth. Left untreated, this can lead to gum infection, bleeding, soreness and general discomfort. You could get all these problems with natural teeth. If your implants are well looked after, and if the bone they are fitted to is strong and healthy, you can expect them to last for many years. However, just as with other surgical implants (such as a hip replacement) there is no lifetime guarantee.
How long does the treatment take?
Your dental team will be able to give you a rough timetable before the treatment starts.
Some false teeth can now even be fitted at the same time as the implants (these are called 'immediate implants'). Check with your dental team to see whether these are suitable for you. Usually, the false teeth are fitted 3 to 4 months after the implants are put in. Sometimes treatment takes longer and your dental team will be able to talk to you about your treatment time.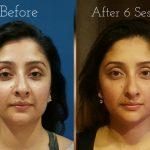 Do You Want Your Youth Back ?
Fill the Form & Take 1st Step towards it!