Do You Want Your Youth Back ?
Fill the Form & Take 1st Step towards it!
Laser Treatment

in Jodhpur
Laser skin treatment, also known as laser skin resurfacing, is a procedure that makes use of lasers to improve skin irregularities or remove skin blemishes. This is a good option for people who want to achieve smoother, younger-looking skin. Laser skin treatment is also known as laser vaporization or peel.. In laser skin treatments, the epidermis, or the skin's outer layer, is removed. At the same time, the dermis, which is the layer of the skin underneath the surface, is heated, stimulating the skin cells to produce elastin and collagen fibers. Using lasers for skin treatments results in controlled injury to the damaged skin and promoting wound healing and re-modelling. The healing process creates new skin cells, resulting in a smoother and tighter skin surface.
Laser skin treatment is currently used in the management of a variety of skin problems. Wrinkles, crow's feet and other fine lines on the face respond well to laser skin treatment. You may also benefit from laser skin treatment if you have sun-damaged skin, minor or shallow scars, acne spots or lesions composed of small blood vessels known as telangiectasia. Stretch marks may be diminished, but are usually not completely removed. Laser skin resurfacing is generally not recommended for individuals who have very dark skin and those with active acne problems.
Laser Hair Removal is the process of removing hairs by beaming the highly concentrated light into the hair follicles which destroys the hairs. Lasers are useful for removing unwanted hair from the face, leg, underarm and other areas. Laser Treatment in Jodhpur is Possible.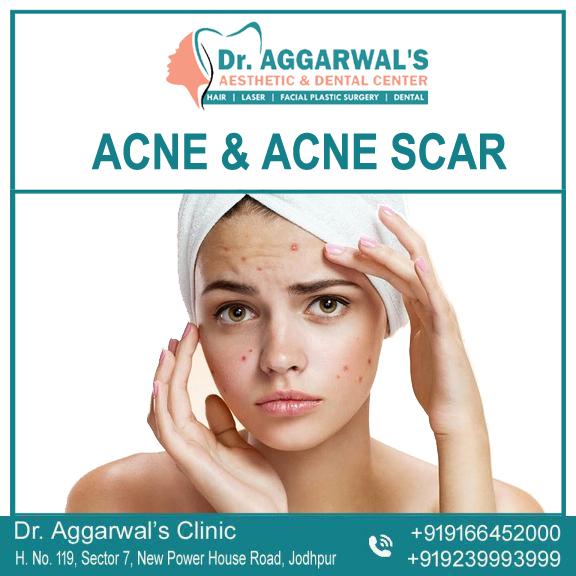 Acne Scars are something which needs proper diagnosis so as to know the cause of the scars and treat it accordingly. Acne scars are the product of end-stage inflammatory lesions. It occurs more to people in twenties. Laser Treatment in Jodhpur is Possible.
Skin Whitening is a process of reducing the melanin pigment in the skin hence giving it a brighter complexion. Dark skin has more amount of melanin in the skin and so it is reduced so as to make the skin brighter. Laser Treatment in Jodhpur is Possible.
Facial Plastic Surgery is done to enhance the visual appearance of the facial features. This type of surgery is done to reshape structures like in nose, ears, chin, eyelifts etc. and hence mostly remove facial wrinkles. Laser Treatment in Jodhpur is Possible.
Laser Treatments In Jodhpur
Why Dr. Aggarwals Clinic ?
Certified Trichology Expert
He is one of the leading Trichologist and a hair loss specialist in Jodhpur who has helped thousands of hair loss sufferers across the country. His work has been published in many of the famous newspapers and this proves his expertise. He is often cited as the best to peform Hair Transplant in Jodhpur.
Dr. Aggarwal is one of the few doctors who are trusted by his patients for facial plastic surgery. All of our patients are satisfied with the post surgery results and this shows Dr. Aggarwal's credibility. Surgery is performed only under the extreme supervision of doctor.
Our 9 years of experience of serving patients on problems related to hairfall and other skin & dental problems, proves that we are amongst the best in Jodhpur and treat our patients with only the best treatments possible. Hair Loss treatments provided are through the best available techniques.
Over 21,000 patients have been treated till yet by Dr. Aggarwal and this achievement speaks for itself and shows that why he is one of the most trusted skin specialist not only in Jodhpur but across India too on whom patients can rely on & proves why he is best choice for Hair Transplant in Jodhpur and Laser Treatment in Jodhpur.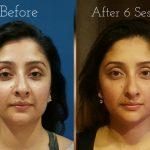 What is Hair Transplantation ?
Painless Surgery
FUT Technique (Strip Method)
FUE Technique
Difference Between FUT and FUE
Microscopic Dissection (German Microscope)

Hair doctor in jodhpur
Hair Fall & Regrowth Therapy
Hair Repair
Ozone Therapy
Nano Hair Therapy
Hair Smoothening
Hair Straightening
Artificial Male Hair
Artificial Female hair
Acne Scars/ Injury Scars
Laser Facial
Skin Wrinkles
Keloids
Age and Sun Spot
Hyperpigmentation
Hypertrophic Scars
Port Wine Stain
Birthmark
Photo Rejuvenation
Tattoos
Unwanted Hair Removal
Lip Reduction
Laser Treatment in Jodhpur 
Fat Injections (Transplant)
Necklift
Double Chin Liposuction
Cheek Implant
Brow Lift
Ear Surgery (OTOPLASTY)
Lip Augmentation
Chin Augmentation
Threadlift
Facelift
Eyelid Surgery(BLEPHEROPLASTY)
Nose Reshaping(RHINOPLASTY)
Dimple Creation
Orthodontics
Kids Denstistry
Crown and Bridges
Cosmetic Denstistry
Root Canal Treatment
Dental Implants

Dentist in jodhpur
Chemical Peeling
Microdermabrasion
Fillers
Do You Want Your Youth Back ?
Fill the Form & Take 1st Step towards it!