Do You Want Your Youth Back ?
Fill the Form & Take 1st Step towards it!
ULTRAcel- A revolutionary technique to reverse your signs of aging. It is an exciting new treatment that works by targeting the same layer that Plastic Surgeons lift and tighten during a surgical face lift. ULTRAcel is the latest skin uplifting device that offers non-surgical skin tightening and lifting of the skin along with addressing of fine lines and wrinkles, leaving your skin glowing, smooth and spanking new. Doesn't matter if you want to enhance or contour your facial features or you want to reverse your aging signs, ULTRAcel is the best option of skin tightening and enhancing. ULTRAcel for skin tightening have given clinically proven results.
What is

ULTRAcel Treatment?
ULTRAcel treatment is the recent and advanced non-surgical & non-invasive process for the skin lifting & tightening. ULTRAcel will haul up, tighten and tone your wobbly skin. With the use of handheld devices that transfers the grid radio frequency and ultrasound waves to the skin. These devices not only targets the outer epidermal layer, but also the deeper facial and neck soft tissue structures which allow the more face lifting along with neck tightening.
Grid RF
It redefines the RF skin tightening treatment or anti-aging treatment which rejuvenates your skin completely from inside out and it works on wrinkles, skin texture, nasolabial folds, chin, jaw line or even large pores. Grid RF uses radiofrequency energy that creates the thermal grid shapes on the epidermis & a uniform thermal zone in the upper dermis during the RF emission.
Needle RF
This is the ideal for skin tightening & rejuvenation by applying the precisely controlled radio frequency
waves directly to the skin with the help of minimally invasive micro-needles. The treatment is best for
eliminating wrinkles, fine lines, pore minimization, acne & acne scars, stretch marks and pigmentation.
The optimal radiofrequency that is delivered to the dermal layers are up to 60-80ºC.
Hifu/Fus
HIFU offers the non-invasive alternative to the surgical face lift while improving the fine lines, wrinkles,
décolleté etc. It is the best skin treatment for face contouring also. HIFU uses the ultrasound waves to safely
lift & tighten the skin. It penetrates deep into the dermal layers at high temperature and also protects
the skin. During the procedure, thermal heat is created within the skin tissue that creates the tiny wounds and
cellular friction. This promotes the healing mechanism of the skin and also enhances the collagen production,
giving skin a tight and lifted effect.
What areas can be

treated with ULTRAcel?
ULTRAcel is a 3 step skin layer lifting which targets the skin tissues and with the help of body's natural healing process, new cells or tissues are generated resulting in more collagen production and tighter or firm skin. The areas which can be treated with the ULTRAcel treatment are;
Mid face skin tightening and lifting
Eyes rejuvenation
Eye lift
Neck lift
Marionette (around lips)
Lower face skin tightening
Eye Brow lift
Chin
Decollete Skin Area
ULTRAcel is the advanced, non-invasive skin tightening treatment which requires no downtime. In ULTRAcel skin uplifting and tightening treatment, small and focused ultrasound waves penetrate through the epidermal layer to reduce the signs of aging through non-invasive lifting & tightening skin. ULTRAcel technology combines the 3 powerful & highly effective technologies in one process. With the use of radiofrequency with the ultrasound waves, ULTRAcel targets and transfers heat to the collagen in the deeper layers of skin. After this, stimulation of new collagen which helps to lift the skin resulting in firmer and tighter skin.
1st Step
Grid RF In the Upper dermis, radio frequency and high intensity focused ultrasound waves are emitted to 3.0/4.5 mm depth with fractional shape. It helps to stimulates the collagen production and smoothens the skin surface.
2nd Step
RF Micro-needling: RF Micro-needling is an avant-garde skin repairing technique. In RF micro-needling, small insulated micro-needles create tiny wounds by penetrating into the dermal layer of skin. When it is combined with RF, it enables the thermal energy to stimulate body's natural healing mechanism which enhances the collagen production.
3rd Step:
HIFU/FUS: HIFU targets the deep SMAS layer (Superficial muscular aponeurotic system) of face. In HIFU, the high intensity of ultrasound is emitted to the deep structural layers such as fascia, SMAS fat layer, dermis boundary layer of subcutaneous which causes thermal wounds, prompting the body to launch its natural healing process. Skin begin to produce more collagen, which lifts, tightens and contours the skin resulting in wrinkle free skin.
Why Ultracel treatment

for skin tightening?
ULTRAcel skin tightening process is done with the world's hi-tech or advanced face lifting machine and it is the non-surgical face lift machine. ULTRAcel increases the density of collagen by producing more collagen peptides & elastin in the dermis. This technique is so far advanced from the only laser skin tightening. This ULTRAcel skin tightening treatment is the best for non-surgical neck tightening or non-surgical neck lift, chin lift without surgery, jaw line lift and non-surgical eyebrow lift.
ULTRAcel vs. Other Combination Machines
Specifications of ULTRAcel Skin Tightening & Uplifting Machine
Transducers with high supremacy
High power transducers in ULTRAcel helps to create a coagulation zone which is required of an ample size for desired in-depth.
With its powerful frequency, it helps to create a coagulation zone over the temperature of 60ºC in the dermal layer.
Cartridges with high & reliable quality
With the help of mimicking phantoms, cartridges of ULTRAcel machine is tested to ensure better & high-quality results.
Easy to handle device:
The handheld devices of this skin uplifting machine are designed vertically to provide a clear vision & easy handling during the treatment.
How is ULTRAcel skin uplifting procedure different from other skin tightening procedures?
ULTRAcel is 3 in one technique for the skin tightening & uplifting. It uses the three different technologies which are;
Grid Fractional Radiofrequency (GFR)
High-Intensity Focused Ultrasound (HIFU/FUS)
Fractional Radiofrequency Micro-needling (FRM), also known as INTRAcel
Among the above-given procedures for skin tightening, GFR & FUS are performed in one session while FRM is performed in one single session.
FRM
With dermal micro-needling technique along with fractional radio frequency, there is enhanced collagen & elastin production.
You may feel heat or pricking sensation and skin will turn into red which will be normal within 2-3 days.
GFR & FUS
With the help of thermal heat energy, there is simulation in the collagen production to tighten the skin.
You may feel the a stinging sensation and mild soreness which will resolve within 2-3 weeks
What is the difference between ULTRAcel & INTRAcel?
ULTRAcel is also known as HIFU or FUS and provides a structural lift to the skin. ULTRAcel is a non-invasive method which uses ultrasound and radiofrequency energy in synergy to work at the deeper layer of the skin (the SMAS layer).
INTRAcel is also referred to as FRM. It works by resurfacing the skin's surface and stimulates the collagen and elastin production. INTRAcel combines the Micro-needling with radiofrequency to target the heat energy below the surface of the skin.
Frequently Asked Questions
As a nonsurgical technique, HIFU calls for less recovery time than a surgical facelift, but the results will not be as pronounced. Still, researchers have found that the procedure can firm sagging skin, smooth wrinkles, and improve skin texture.
Most people see full results three months after their final treatment. If you're looking for a treatment that is quick, painless, and noninvasive, HIFU is an excellent option compared to a surgical face lift. Of course, HIFU isn't a miracle cure for aging.
How Many HIFU Treatments Will I Need? Most clients only need one treatment. However this may be based on the degree of skin laxity, the biological response to ultrasound energy and the individual's collagen-building process, some clients may benefit from additional treatments.
One of the biggest downsides of other HiFu treatments is that, if they hit fat cells, they can destroy them, leading to fat loss. This can lead to hollow areas on the face, which actually cause more lines and wrinkles rather than providing the desired lifting effect.
HIFU delivers more precise and more intense fractional ultrasound energy while RF is based on a bulk heating strategy. Second, each technology works in different, but partially overlapping skin layers. HIFU goes much deeper into and beyond the dermis, being able to reach the SMAS layer.
Compared to options #1 and #2 which are both INVASIVE, PAINFUL with DOWNTIME, HIFU is a welcome alternative as no needles are involved. Because it uses only an ultrasound cartridge applicator over your face instead of needles, you get much less bruising, swelling, pain and downtime.
After-Care Guidelines – HIFU Neck and Face Lift
Avoid caffeine and alcohol for 48 hours afterwards, even longer if possible for optimal results. No strenuous exercise for 24 to 48 hours to reduce any swelling that may have occurred during your treatment.
Macro HIFU Body Lipolysis Treatment areas
Are the results permanent? Permanent, as long as you maintain your weight with your normal diet and exercise, your long term results should remain stable.
Does it really melt fat? A proper HIFU procedure can reduce fats on the face / body when done properly with the right handpieces. Excess facial fats such as jowls, double chin, and chubby cheeks can be reduced with a proper type of HIFU.
Side Effects Of A HIFU Facial
Pain. Ultrasonic therapy is usually painless, with users reporting a slight tingling sensation or warmth on the skin. 
Blotchy skin. This was the most common side effect reported by patients during a study researching the effectiveness of HIFU. 
Swelling. 
Numbness. 
Hyper-pigmentation. 
The absence of effect.
When used for the undereye area, HIFU can achieve the following benefits. This multi-pronged approach targets and treats the 3 main factors that worsen eyebag appearance – muscle and ligamentous laxity, thin skin and accumulation of under eye fats.
Day of Treatment:
Do not wear any make-up or moisturizers on the area being treated, however, we have cleaners that can be used for you to remove in the office.
Results: HIFU overall success rate was 84% (biochemical relapses in only 4 patients out of 25). Success rate was represented as follows: 94.2% in the low risk group, 83.4% in the intermediate risk group and 0% in the high risk group.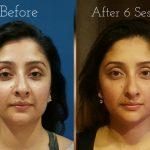 Do You Want Your Youth Back ?
Fill the Form & Take 1st Step towards it!