Do You Want Your Youth Back ?
Fill the Form & Take 1st Step towards it!
‍Are you shy of flashing your smile? Are you are having problems of crooked, crowded or malaligned teeth? If yes, then our team of highly skilled Orthodontists will help provide you with the best dental braces treatment possible.
‍
We, at The Dental Roots, believe that everyone can get a beautiful and a confident smile using our advanced methods and availing our orthodontic treatment in Jodhpur
TYPES OF BRACES
Here, we provide you information about what kind of options are available in our Orthodontics treatment.
Metal braces
These are the most popular types of braces. Under this treatment, Metal brackets are put on the teeth and the patient has to wear them for a considerable months. This is the most popular corrective dental brace. However, if you are looking for a more aesthetic option, you can opt for the ceramic braces.
Ceramic braces
If you feel that metallic braces look prominent and a bit unpleasant then you can opt for this one. These are a bit expensive as compared to the metallic braces but they are quite aesthetic and convenient.
Invisible braces
These braces are most suitable for those who do not want wires and brackets on their teeth. A set of transparent plastic trays are made for each jaw. You will see that there would be many plastic trays created for each tooth and in that fashion invisible bracing is done.
Lingual Braces
Here metal brackets are put on the teeth but the way they are installed is quite amazing. They are put from within and that is why they are not visible outside.
FREQUENTLY ASKED QUESTIONS ?
What should one know before getting braces?
There are a few things to note before getting orthodontic treatment like braces,
‍You can get braces at any age: – There is no age limit for dental braces and treatment can be done at any age. Braces are to address misaligned teeth so there is no age consider including it.
‍Select a very good Orthodontist – They are specially trained in treating and correcting crooked teeth and cosmetic dentistry in comparision to a general dentist.
‍Treatment Time and Cost: By and large, it takes around two years to finish an orthodontic treatment. The expense of the orthodontic treatment differs widely, contingent on the area, the facility and the age of the patient.
‍Be prepared for some temporary discomfort: You may encounter some uneasiness for a couple of days after the braces are put on the teeth. You can start eating normally after the braces settle in. But you need to stay away from foods that are hard and sticky and also from bubbly beverages, since they can harm the braces.
‍Beware of allergies before getting braces: Some people are allergic to elements found in brackets and wires of braces like nickel, plastic etc. Tell your orthodontist, if you know that you have an allergy or sensitivity to any substance. Your orthodontist can provide alternative products which won't cause problems for you.
‍You will need to wear retainers afterward: Retainers makes sure that your teeth will not move back into their old crooked positions. These need to be worn for an extended period of a few months – many retainers are transparent and not very visible. To Know more about dental braces and ceramic braces cost in Gurgaon, Haryana and to experience best Orthodontic Treatments visit Dental roots Clinic. You can also find out about detailed things like Ceramic Braces, Invisible Braces, Gold Braces, Clear Aligners at best cost/rates etc.
Why should I get braces?
If you feel you are hesitant to smile and show your teeth because they are malaligned then braces are an option to consider. Braces can change not just your teeth but also your confidence levels and your attitude to life. They can close the gaps in your teeth, straighten malaligned teeth and give you a picture perfect smile. Braces are a simple and effective treatment for a lifetime. If your teeth are crooked there is also the possibility of tooth decay – thus braces don't serve just an aesthetic but also a functional purpose.
How many visits before getting braces? 
Depends to a large extent on the condition of your teeth. Generally, a pre-ortho consultation for acquiring your dental records is required. The visit also depends upon the type of braces – for example self-ligating braces treatment typically lasts six months shorter than treatment with conventional braces. In addition, approximately fewer check-up appointments are required with this system.
When do braces start hurting?
There are a lot of factors associated with pain or discomfort from braces. What makes braces hurt is pressure on the tooth which comes from the wires which are attached to the brackets. Before, these wires were made of hardened steel, which was moderately solid and needed to be constantly reactivated each month to keep the teeth moving. These wires made individual's teeth genuinely sore after each visit and most people suffered a fair amount of pain through the treatment. Now modern dentistry has advanced and instead of hardened steel, the underlying phases of treatment include wires made of nickel titanium which are exceptionally light while being as strong as steel. These are also exceptionally flexible and hence adapt to the shape of the mouth – hence avoiding soreness caused by wearing inflexible hardened steel wire. They can thus move the teeth easily without requiring extensive adjustments – just a 5 minute sitting is all it takes to change their shape as the treatment progresses.
Will my teeth be strained if I'hv had braces for a long time?
Brushing is adviced after every meal. Your toothbrush will deteriorate quicker as it comes in frequent contact with braces and hence needs to be replaced frequently. A conventional toothbrush won't achieve the required result and hence special toothbrushes are a must. Appropriate oral hygiene additionally includes flossing and the utilization of an interdental toothbrush and mouthwash with topical fluoride. If you want you can use whitening toothpaste once a week and this can remove any stains that have built up over time.
Braces do not stain teeth – not taking care of your teeth does. Orthodontic toothbrush with moderate power and a tooth gel that contains fluoride can be utilized. By using this toothbrush you can bursh along the gum line and utilize little circular movements to remove all the plaque. This will clean all the surfaces of your tooth including the zones above, underneath and between each support. Each surface of each tooth ought to be cleaned with 10 strokes of the toothbrush and this takes around 2-3 minutes.
Who are the Ideal Candidates for Braces Treatment?
It is important to note that orthodontic treatment can be sought by anyone irrespective of the age group, race or gender. This is because this treatment is effective for children, adults and we even have braces for elder citizens and seniors. Our orthodontic treatments in Delhi NCR are ideal to solve  problems like crowded teeth, misaligned teeth, bad bite issue due to uneven jaws and others. So, it really doesn't matter whether you are a child or an elder person, you can be a viable candidate to improve your smile and get the treatment you deserve.
Why must I undergo orthodontic treatment?
Braces are not just for aesthetics and a nice smile but are also greatly required to avoid a host of health and dental issues associated with misaligned teeth. Some of the persistent issues that can arise if you do not get corrective braces treatment in time are Tooth decay, gum diseases, bad oral health, bad breath as well as loss of teeth.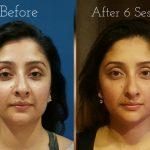 Do You Want Your Youth Back ?
Fill the Form & Take 1st Step towards it!