WHAT ARE PORT WINE STAINS?
A port-wine stain is a type of birthmark that got its name because it looks like maroon wine was spilled or splashed on the skin. Though they often start out looking pink at birth, port-wine stains tend to become darker (usually reddish-purple or dark red) as kids grow. Port-wine stains won't go away on their own, but they can be treated. Laser therapies can make many port-wine stains much less noticeable.
WHAT ARE THE SIGNS OF PORT WINE STAINS?
Port-wine stains (also known as nevus flammeus) can be anywhere on the body but most commonly are found on the face, neck, scalp, arms, or legs. They can be any size, and usually grow in proportion with a child.
They often change in texture over time, too — early on, they're smooth and flat but they may thicken and feel like pebbles under the skin during adulthood.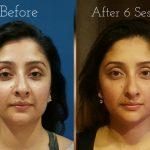 HAIR TREATMENT'S
Hair Transplant
Body Hair Transplant
Hair Loss Treatment
Artificial Hair Replacement
LASER TREATMENT'S
Laser Hair Removal
Cosmetic Laser Treatment
Aesthetic Treatment
Skin Whitening
COSMETIC TREATMENT
Laser Hair Removal
Cosmetic Laser Treatment
Aesthetic Treatment
Skin Whitening
DENTAL TREATMENT'S
Root Canal
Dental Implant
Dental Crowns & Bridges