Do You Want Your Smile Back?
Fill the Form & Take 1st Step towards your smile.
Best Dental Clinic

in Jodhpur
Dr. Aggarwals Clinic is a modern, High Technology and ISO certified Dental Clinic in Jodhpur, India. Headed by Dr. Anika Aggarwal (B.D.S, M.D.S), We have a team of Expertise that is dedicated towards delivering all dental treatment under one roof.
We strive to provide high quality, personalized dental care in a relaxing, comfortable and safe environment. Lifelong relationships are created with our patients based on trust and honesty. Our experienced staff are trained to handle all dental treatments, from simple dental fillings to complex dental procedures.
All through your time with Dr Aggarwals Clinic, our caring and dedicated team of dentists and staff will provide you with the best service in a warm and relaxing ambience.
We take time to genuinely understand our patient's needs and perspective and then provide customized solutions to transform their dental health. Visit Dr Aggarwals Clinic to experience life-changing dentistry at affordable costs !
Dr. Anika Aggarwal is amongst the best dentists in Jodhpur who specializes in Dental Cosmetics and is a Root Canal Specialist. She is highly qualified and has done MDS in conservative and endodontics. She has been serving patients related to dental from many years and connects efficiently with all her patients to so as to study the case and accordingly treat the patients effectively. This approach provides comfortness to the patients and they can openly share all the health problems from which they are suffering. Through this, she has been spreading smiles to all her patients by providing the care their teeths deserve.
Frequently Asked Questions
During your exam, your dentist will look for and explain areas of future concern as well as any current issues. Pay attention to this information and use it as an opportunity to ask follow-up questions.
Ask your dentist for a summary of your overall dental health, how you can better manage your daily care, and any other areas you can improve.
A few specific dental care questions you can ask include:
Am I brushing and flossing correctly?
Can you demonstrate proper brushing and flossing technique?
Are the dental tools I'm using the best choice for my teeth?
How do my gums look?
Are there any teeth we need to keep a closer eye on?
In addition to these questions, make sure to mention any problems you're experiencing, even if they seem minor. If you have pain, sensitivity, or abnormalities, bring them up! Remember, catching issues early on is the key to successful treatment and the best way to ensure lifelong dental health.
We often tell our patients to think of their mouth as a window to their overall health. This is because a range of whole-body health issues begin by displaying symptoms in the mouth. For example, certain changes in your mouth can be a sign of conditions such as:
Diabetes
Vitamin deficiencies
Osteoporosis
Additionally, research suggests common dental issues like gum disease can lead to heart disease, stroke, and other problems like premature birth.
Your time with the dentist is a great time to ask if there are any dental concerns you should discuss with your primary care provider. Find out if your dentist needs to know anything from your doctor as well. For instance, let your dentist know if you recently started taking medication, as it could cause dental complications (like dry mouth).
A startling 1 out of every 2 Indian adults age 30 and older has periodontal disease, also known as gum disease. Left untreated, gum disease can lead to severe infection and tooth loss. It's also associated with various chronic diseases, including diabetes, heart disease, and Alzheimer's disease.
Gum disease is not an issue to ignore, yet the majority of those who have the disease either haven't been diagnosed or are not actively seeking treatment.
During your regular dental exam, your dentist will look for signs of gum disease and also assess your future risk of developing gum disease. Knowing your risk level and how to watch for these signs yourself is also important. Ask your dentist what to watch for and what kind of preventive steps you can take to keep this dangerous disease at bay.
If you are showing symptoms of gum disease, don't wait to get treatment. Thanks to technological advancements, gum disease treatments today are minimally invasive and stop the disease right in its tracks
Did you know that the foods you eat affect more than your general body health? They also play a role in the health of your teeth and gums!
In general, eating a diet rich in protein, leafy greens, and whole fruit is great for your mouth. While sugary, sticky, and acidic foods can cause cavities and should be avoided. Additionally, coffee, tea, and wine can stain your teeth.
If you have concerns about how your diet choices might be affecting your teeth, talk to your dentist. Together you can can discuss what food choices might be causing issues for your dental health.
Keep in mind that over-the-counter teeth whitening kits can actually do more harm than good. Many will cause tooth sensitivity and damage the roots of your teeth. Your dentist can prescribe a professional teeth whitening treatment to help you achieve a smile you're proud of.
Have you chipped or broken a tooth? Are you experiencing weak or decaying teeth? Did you get in an accident and lose a tooth completely? Whether you're currently experiencing any one of these issues or simply want to be informed in case of a future issue, talk to your dentist about dental implants.
Dental implants are the best way to replace and restore missing or damaged teeth. Not only will they bring back the natural and healthy functionality of your smile, they also look and feel just like your natural teeth.
If you get nervous before visiting the dentist, you're not alone. An estimated 60% of the population has anxiety about going to the dentist. It's okay to be nervous as long as you don't let it stop you from taking care of your mouth.
If you have feelings of anxiety, bring it up at your appointment! A trusted dental team will be more than happy to help you overcome this fear. For example, you may feel more relaxed if your dental team explained every step of the exam to you, paid close attention to anything causing you discomfort, and offered comfort amenities to help you relax.
Our Dr Anika's Dentistry team has purposefully designed the most comfortable dentist clinic in Jodhpur to help alleviate this fear. We're committed to your comfort and satisfaction and we'll do everything we can to help you feel relaxed.
Our practice provides a wide array of high quality preventative, restorative and cosmetic dental services and treatments which can boost your confidence, eliminate pain and help improve your smile.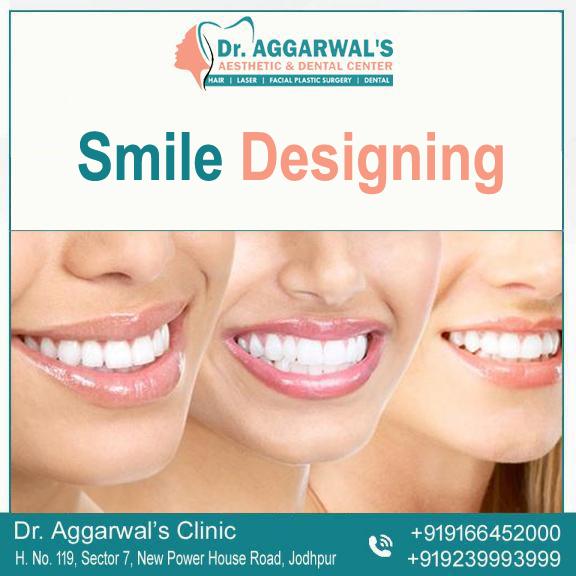 Smile Design Treatment is a cosmetic treatment that focuses on improving the appearance of your smile through certain procedures such as dental veneers, composite bonding, teeth whitening, and a tooth implant.
This treatment is used to restore teeth that have experienced advanced decay, necessitating the removal of much of the tooth. Crowns can also attach bridges, prevent tooth cracks from spreading, cover implants, and keep fillings from becoming loose.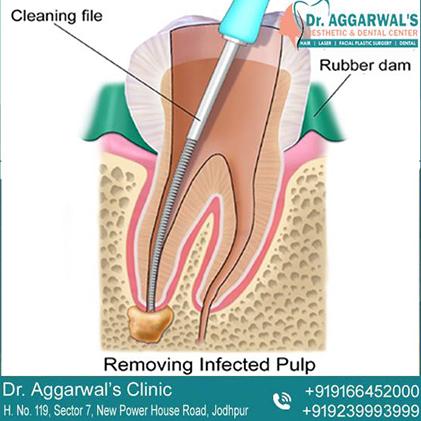 30-minute painless root canal procedures at Our Clinic performed by root canal specialists are extremely comfortable and convenient for the patients. The root canal procedure is performed to save a damaged or badly infected tooth.