Do You Want Your Youth Back ?
Fill the Form & Take 1st Step towards it!
Ear Surgery

( Otoplasty )
Otoplasty  also known as cosmetic ear surgery is a procedure to change the shape, position or size of the ears.
You might choose to have otoplasty if you're bothered by how far your ears stick out from your head. You might also consider otoplasty if your ear or ears are misshapen due to an injury or birth defect.
Otoplasty can be done at any age after the ears have reached their full size usually after age 5 through adulthood. In some cases, the surgery is done as early as age 3.
If a child is born with prominent ears and certain other ear shape problems, splinting may successfully correct these issues if started immediately after birth.
Why it's done
You might consider otoplasty if:
Your ear or ears stick out too far from your head
Your ears are large in proportion to your head
You're dissatisfied with a previous ear surgery
Otoplasty is typically done on both ears to optimize symmetry.
Otoplasty can be done at any age after the ears have reached their full size — usually after age 5.
Otoplasty won't change the location of your ears or alter your ability to hear.
Risks
Otoplasty poses various risks, including:
Scarring. While scars are permanent, they'll likely be hidden behind your ears or within the creases of your ears.
Asymmetry in ear placement. This could occur as a result of changes during the healing process. Also, surgery might not successfully correct pre-existing asymmetry.
Changes in skin sensation. During otoplasty, the repositioning of your ears can temporarily affect skin sensation in the area. Rarely, changes are permanent.
Problems with stitches. Stitches used to secure the ear's new shape might work their way to the surface of the skin and need to be removed. This can cause inflammation of the affected skin. As a result, you might need additional surgery.
Overcorrection. Otoplasty can create unnatural contours that make ears appear to be pinned back.
Like any other type of major surgery, otoplasty poses a risk of bleeding, infection and an adverse reaction to anesthesia. It's also possible to have an allergic reaction to the surgical tape or other materials used during or after the procedure.
How you prepare
A consultation for otoplasty
Initially, you'll talk to a plastic surgeon about otoplasty. During your first visit, your plastic surgeon will likely:
Review your medical history. Be prepared to answer questions about current and past medical conditions, especially any ear infections. Talk about any medications you're taking or you've taken recently, as well as any surgeries you've had.
Do a physical exam. To determine your treatment options, the doctor will examine your ears — including their placement, size, shape and symmetry. The doctor might also take pictures of your ears for your medical record.
Discuss your expectations. Explain why you want otoplasty and what you're hoping for in terms of appearance after the procedure. Make sure you understand the risks, such as possible overcorrection.
If you're a good candidate for otoplasty, your doctor may recommend that you take some steps to prepare beforehand.
Food and medications
You'll likely need to avoid aspirin, anti-inflammatory drugs and herbal supplements, which can increase bleeding.
Other precautions
Smoking decreases blood flow in the skin and can slow the healing process. If you smoke, your doctor will recommend that you stop smoking before surgery and during recovery.
Also, be sure to make plans for someone to drive you home after surgery and stay with you for the first night of your recovery.
What you can expect
Before the procedure
Otoplasty can be done in a hospital or an outpatient surgical facility.
Sometimes the procedure is done with sedation and local anesthesia, which numbs only part of your body. In other cases, general anesthesia — which renders you unconscious — may be given before your procedure.
During the procedure
Otoplasty techniques vary based on what kind of correction is needed. The specific technique your plastic surgeon chooses will determine the location of the incisions and the resulting scars.
Your doctor might make incisions:
On the backs of your ears
Within the inner creases of your ears
After making incisions, your doctor might remove excess cartilage and skin. He or she will then fold the cartilage into the proper position and secure it with internal stitches. Additional stitches will be used to close the incisions.
The procedure typically takes about two hours.



After the procedure
After otoplasty, your ears will be covered in bandages for protection and support.
You'll likely feel some discomfort and itching. Take pain medication as recommended by your doctor. If you take pain medication and your discomfort increases, contact your doctor immediately.
To keep pressure off your ears, avoid sleeping on your side. Also try not to rub or place excessive force on the incisions. Consider wearing button-down shirts or shirts with loosefitting collars.
A few days after otoplasty, your doctor will remove your bandages. Your ears will likely be swollen and red. You'll need to wear a loose headband that covers your ears at night for two to six weeks. This will help keep you from pulling your ears forward when rolling over in bed.
Talk to your doctor about when — or if — your stitches will be removed. Some stitches dissolve on their own. Others must be removed in the doctor's office in the weeks after the procedure.
Ask your doctor when it's OK to resume daily activities, such as bathing and physical activity.
Results
After your bandages are removed, you'll notice an immediate change in the appearance of your ears. These changes are permanent.
If you're not satisfied with your results, check with your surgeon about the possibility of revision surgery.
Prevention tips
To prevent a swollen earlobe, make sure to stay clear of things that can trigger allergic reactions and rashes. For example, avoid earrings containing nickel if you've had allergic reactions to this material in the past. It can also help to keep your ears clean. Use a cotton swab or damp washcloth only on the outside of the ear to clean it.
What's the outlook?
A swollen earlobe can be indicative of many different health issues, so it's important to pay attention to how it develops. Most of the time, it's easy enough to treat at home, without a doctor's help.
However, contact your doctor if the swelling doesn't go down over time, home remedies fail to work, or if you suspect it's a sign of something more serious.
Frequently Asked Questions
Otoplasty surgery can take many forms, including bringing ears that stick out too far closer to the head (ear pinning), reducing the size of very large ears, or reshaping various bends in the cartilage.
Otoplasty is usually performed by a board-certified plastic surgeon, an ENT (ear, nose and throat) surgeon or a board-certified facial plastic surgeon. In adults, otoplasty is usually performed as an outpatient procedure under local or regional anesthesia. In children under the age of 8, general anesthesia is usually administered to keep them still during the procedure. All incisions are made behind the ear so there are no visible scars after the operation. If the ears are protruding, they may be rotated backward. If some of the natural folds of the ear are missing, they can be created from tissues taken from other parts of the ear or body. Ears that have been injured and are thickened can be thinned and sculpted. At the end of the operation, a pressure dressing is placed over the ear(s) to hold it in place while it heals.
There is normally very little pain or bruising involved postoperatively. It takes about a week and a half after the procedure for most of the swelling to subside, although the area will be sensitive for about three weeks. The pressure dressing is removed after five to seven days. Ears will often feel numb for two to three months after the surgery, with sensation returning slowly over that period. This numbness is the reason that there is generally no pain during otoplasty recovery, which makes the operation exceptionally well-tolerated by children.
No peeking at the ear until after the pressure dressing is removed! Doing so could increase the chance of infection or alter the final results. After the dressings are removed, you will see an immediate difference in the ear, although some residual swelling may remain.
With proper postoperative care, otoplasty is a very safe and satisfying operation that carries little risk. Possible ear surgery complications include reaction to anesthesia, bleeding, infection, blood clot, unfavorable scarring, asymmetry and cosmetic dissatisfaction.
The cost of otoplasty depends on a variety of factors, including the extent of the procedure, the location of the practice and the skill level of the surgeon. The average cost of ear surgery is $3,441, according to the American Academy of Facial Plastic and Reconstructive Surgery.
Earlobe surgery is a procedure in which the surgeon repairs an earlobe that has been stretched or torn. In some cases, the earlobe may have been torn due to a piercing that was accidentally yanked. In other instances, the lobe may have been stretched intentionally as a form of body modification. In either case, the surgeon can suture the opening closed and allow the patient to wear earrings again.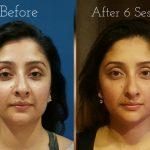 Do You Want Your Youth Back ?
Fill the Form & Take 1st Step towards it!